The Ultimate Guide to Choosing Window Blinds A blind is a blind is a blind, right? Wrong. Aside from the obvious differences between quality blinds and cheap blinds, there are also dozens of considerations that can determine which sort of blinds is best for you.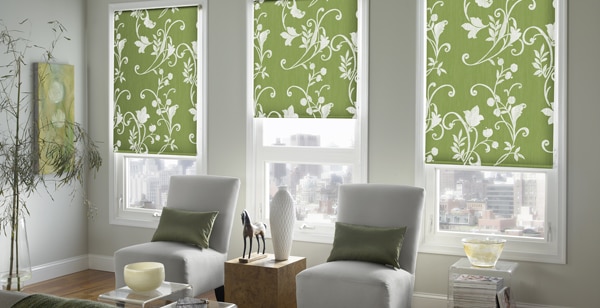 Rather than subjecting yourself to the costly and time-sucking ritual of trial and error, check out these guidelines on buying blinds and spare yourself the hassle.
Your Budget
First things first. There's no point falling in love with a set of blinds you simply can't afford, so determine your budget. Just bear in mind that while economy is good, being overly frugal is not a good idea in the long run. Sure, you can get super cheap blinds, but you'll also be replacing them every few years. Better to invest in good quality blinds and have them last for life. Don't spend more than you can afford, but if you can't afford something solid, save until you can.
The Space
Next consider where you'll be using the blinds. A bedroom? A dining area? Den? Office? Nursery? This matters because different types of blinds have different strengths.

Let's take a look:
Vertical blinds. Vertical blinds are the most popular blind for patio and sliding doors, since you can walk through them, even when they are closed. So, you get visual privacy and physical fluidity.

Honeycomb Shades. These are the best shades for bedrooms. Not only do they provide privacy, but they also come with black-out options, so you can sleep in total darkness - which sleep experts agree is the best way to slumber. In addition to privacy and light control, Honeycomb blinds also have thermoregulation properties, which will help keep your room cool in the warmer months and toasty in the winter.

Venetian Blinds. Popular in offices, kitchens, basements and bathrooms, Venetian blinds allow you to control privacy as well as light by simply adjusting the slat rotation.

Roman Shades. Roman shades are a wonderful choice for spaces where you want to create a luxurious feel. Elegant with graceful folds, this shade affords privacy and sophistication.

Cordless. Most blinds and shades come in cordless options these days. This is particularly useful in children's bedrooms, nurseries, or professional spaces frequented by children since there is no potentially dangerous chain or cord.

Roller Shades. Also known as solar shades, roller shades are ideal for areas with large windows, like sunrooms or offices/living spaces with vista windows. You can order them with customized sunlight and UV filters, so you're only getting as much light as you want. (Blackout options are available.)
Shades or Blinds?
At this point, it's important to distinguish between shades and blinds. While the terms are often used interchangeably, they're not actually the same product. Shades are made of a single piece of material. So, while you can customize the light/UV filter of your shades when you order them, you can't adjust them when you get home. You get one setting. That's it. As mentioned, this is ideal for areas where privacy and temperature/light control are major considerations, but if you want to be able to play around in the grey area between light and darkness, then blinds are your best bet. Blinds have slats, which you can rotate to allow for more or less privacy/light. Blinds do provide an element of temperature control, but not as much as shades.
Bottoms Up? Or Top Down?
Traditional shades are pulled down and retract up, but these days you have another option. Top-down/bottom up shades offer a middle ground between the benefits of blinds and conventional shades, affording you natural light from the top, and privacy from the bottom. Which one you'll want will depend on where you're planning to install your window treatmen.

No matter what you decide, blinds and shades are insanely versatile and stylish, coming in an impressive spread of colours and made from a range of materials. Whether you want timber Venetians to polish of the classic and natural look of your den, or pink cordless Romans for your daughter's bedroom, you can rest assured you'll never have to compromise fashion for functionality.